Chongqing
City and proivincial-level city of China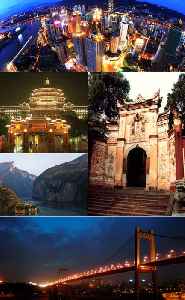 Chongqing, alternatively romanised as Chungking, is a megacity in southwest China. Administratively, it is one of the four municipalities under the direct administration of central government of the People's Republic of China, and the only such municipality located far away from the coast. The municipality of Chongqing, which is around the size of Austria, includes the city of Chongqing and various non-connected cities. As the Chongqing municipality government directly administers the city of Chongqing, as well as rural counties, and other cities not connected to the city of Chongqing, Chongqing municipality can technically claim to be the largest city proper in the world, even though this is due to a classification technicality and not because it is actually the world's largest urban area.


To fight coronavirus, disinfectant tunnel in China sprays industrial workers
A company in the southwestern Chinese city of Chongqing has built a tunnel to spray employees at an industrial complex with disinfectant before they begin work, according to a local media report, as..
Reuters - Published
China's Chongqing city confirms five cases of new coronavirus
China's Chongqing city has confirmed five cases of infection from the new coronavirus, the city's health authority said on Tuesday.
Reuters - Published
World's oldest captive giant panda turns 37
CHONGQING, Aug. 23 -- A zoo in southwest China's Chongqing Municipality on Friday threw a birthday party for its celebrity "granny panda" who turned 37,...
WorldNews - Published
At Least 11 Dead In Sichuan Earthquakes In China
A string of strong earthquakes hit the southwestern province of Sichuan late on Monday, killing at least 11 with more than 120 people injured, according to state media Xinhua. Rescuers were quickly..
WorldNews - Published
More Than 60 People Killed, 350,000 Evacuated During Floods Across Central China
Chinese rescue authorities said at least 61 people have been killed and 356,000 evacuated from southern and central China this week after torrential rainfall ignited floods across the region, according..
WorldNews - Published
China fines Ford joint venture for price fixing
Beijing — China on Tuesday imposed a $23.6m fine on US car company Ford's joint venture with Changan Automobile for price fixing in the latest incident of Beijing targeting an American company amid..
WorldNews - Published
You Might Like