Hebei
Province of China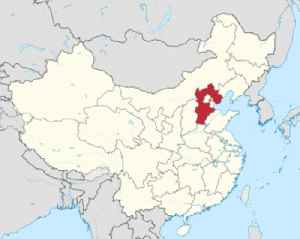 Hebei is a coastal province in Northern China. The modern province was established in 1911 as Chihli Province. Its capital and largest city is Shijiazhuang. Its one-character abbreviation is "冀" (Jì), named after Ji Province, a Han dynasty province (zhou) that included what is now southern Hebei. The name Hebei literally means "north of the river", referring to its location entirely to the north of the Yellow River.


Cornavirus outbreak: Death toll in China climbs to over 1860
The death toll from China's coronavirus epidemic climbed to 1,868 on Tuesday as 98 more people died while the total number of confirmed cases jumped to 72,436, officials said. Of the new deaths, 93..
WorldNews - Published
China's Hebei says schools shut until March to stop virus: state media
The northern Chinese province of Hebei will keep its schools shut until at least March 1 to control the coronavirus outbreak, the Communist Party-run People's Daily newspaper said on Sunday, citing the..
Reuters - Published
X-Games latest event affected by coronavirus outbreak
An X-Games event scheduled for next month in Chongli in China's northern Hebei province has been postponed due to the outbreak of a new coronavirus, organizers have said.
Reuters - Published
China's Beijing suspends most bus services to Hebei to curb virus spread
China's Beijing Public Transport Group said it will suspend the majority of bus services into neighboring Hebei province starting on Tuesday to contain the spread of coronavirus, according to a..
Reuters - Published
China's Tangshan city suspends public transit to prevent spread of coronavirus
Tangshan, China's largest steelmaking city in northern Hebei province, announced on Tuesday morning that it is suspending all public transit within the city in an effort to prevent the further spread..
Reuters - Published
China's Hebei province confirms first death outside epicenter of virus outbreak
China's Hebei provincial health authority said a patient infected with the new coronavirus has died, marking the first confirmed death outside Hubei province where the outbreak began.
Reuters - Published
China Completes Lander Test For First Mars Mission In 2020
China on Thursday successfully completed a lander test in northern Hebei province ahead of an unmanned exploration mission to Mars next year. ......
WorldNews - Published
China's Hebei issues orange smog alert effective Nov. 1
China's top steelmaking province of Hebei has issued an "orange" smog alert effective from Nov. 1, with pollution expected to be "severe", the local environmental bureau said on Wednesday.
Reuters - Published
Fire at steel mill in China's Hebei province kills seven
A fire at a steel producer in northern China's Hebei province has killed seven people, provincial authorities said on Thursday.
Reuters - Published
You Might Like