Elsa (Frozen)
Fictional character of Disney's "Frozen"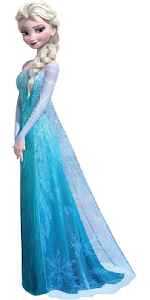 Elsa of Arendelle is a fictional character who appears in Walt Disney Animation Studios' 53rd animated film Frozen and its sequel Frozen II. She is voiced primarily by Broadway actress and singer Idina Menzel. At the beginning of the film, she is voiced by Eva Bella as a young child and by Spencer Ganus as a teenager.


MOVIE REVIEW: Frozen 2
by Graham Pierrepoint - FROZEN 2 IMDb Dir: Chris Buck and Jennifer Lee Starring Idina Menzel, Kristen Bell, Jonathan Groff, Josh Gad, Sterling K Brown, Evan Rachel Wood, Alfred Molina, Martha..
One News Page Staff - Published
Spoilers! Anna and Elsa get cool new roles at the end of 'Frozen 2'
Disney's 'Frozen 2' features a happy ending (naturally), but it's one that finds Anna and Elsa in a different place than where they started. Spoilers!
USATODAY.com - Published
'Frozen 2' co-stars join Hollywood Walk of Fame
"Frozen 2" co-stars Kristen Bell and Idina Menzel are now neighbors on the Hollywood Walk of Fame after the two entertainers each picked up a Walk of Fame star on Tuesday (November 19), days ahead of..
Credit: Reuters Studio Duration: 01:24Published
It's all about self-love and sibling power: 'Frozen 2' stars on new film
Idina Menzel, Jonathan Groff, Josh Gad and director Jennifer Lee say the characters have all grown up and support each other as one "eclectic family" when faced with change and the real villain.
Credit: Reuters Studio Duration: 01:54Published
Elsa lets it go again with the new 'Frozen 2' anthem 'Into the Unknown'
'Let It Go' hit us all like an earworming blizzard in the first 'Frozen.' Now 'Frozen 2' arrives with a new song that aspires to be the next anthem.
USATODAY.com - Published
Idina Menzel: Elsa 'has been the greatest gift'
At the London premiere of "Frozen 2," star Idina Menzel gushes about the project, Jonathan Groff says his nieces were riveted by the film, and Josh Gad is thankful for being able to improvise on the..
USATODAY.com - Published
The new 'Frozen 2' trailer is 'epic!' Anna will 'run into a fire' for her sister Elsa
The sisterly bond is going to be tested again in "Frozen 2" as Princess Elsa and Anna embark on a journey to save the kingdom of Arendelle.
USATODAY.com - Published
Brand new full-length "Frozen II" trailer released
The new trailer, much like the earlier teaser, looks ominous, with Elsa in a precarious situation
CBS News - Published
You Might Like