Black Widow (Natasha Romanova)
Fictional superhero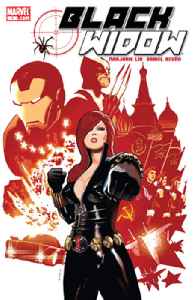 Natalia Alianovna "Natasha" Romanova, colloquial: Black Widow is a fictional superhero appearing in American comic books published by Marvel Comics. Created by editor and plotter Stan Lee, scripter Don Rico, and artist Don Heck, the character debuted in Tales of Suspense #52. The character was introduced as a Russian spy, an antagonist of the superhero Iron Man. She later defected to the United States, becoming an agent of the fictional spy agency S.H.I.E.L.D. and a member of the superhero team the Avengers.


One News Page's Big Picks for 2020 Movies - What's Coming Up?
by Graham Pierrepoint - Following a slight gap in our movie review schedule, and following this year's Oscars, we'd like to take a quick look at some of the bigger movies that are going to..
One News Page Staff - Published
Super Bowl 2020: James Bond, Top Gun and Black Widow trailers unveiled
Daniel Craig, Chris Rock and Winona Ryder are among stars making appearances during Sunday's game.
BBC News - Published
Films to watch in 2020
Here are a few of the top films hitting the big screens in 2020. These include Dolittle, Mulan, Black Widow and Top Gun: Maverick.
Credit: PA - Press Association STUDIO Duration: 02:30Published
'Nothing lasts forever': First 'Black Widow' trailer finally puts Scarlett Johansson in charge
The first "Black Widow" trailer is here, and after years of speculation, Scarlett Johansson is finally in the driver's seat of a Marvel movie.
USATODAY.com - Published
'The Masked Singer' recap: Robin Thicke (jokingly) guessed this unmasked star right!
The guessing game continued Wednesday with four new competitors – Black Widow, Flamingo, Leopard and Panda – all vying to stay on "The Masked Singer."
USATODAY.com - Published
Scarlett Johansson tops again Forbes highest-paid actresses list, no Indian in top-10
Hollywood star Scarlett Johansson has topped, for the second successive year, the Forbes' list of highest paid female actors in the world. The 34-year-old actor's earning, after the success of her..
WorldNews - Published
Marvel Studios May Not Be Releasing New X-Men Movies for 'A Very Long Time'
by Graham Pierrepoint - The recent takeover of 20th Century Fox by Disney earlier this year answered many comic book movie fans' prayers. The acquisition of the studio will now mean that..
One News Page Staff - Published
You Might Like